There is nothing more relaxing than sitting on a comfortable chair in your outdoor area relaxing and taking in fresh air, but wait, what if your cushion is damaged? Everyone indeed needs comfort, and for that purpose, you need to design your home and outdoor space with the best and most durable furniture.
With that said, are your backyard chair's cushions lost or damaged, and are you tired of not being able to buy perfect outdoor cushions for your backyard? There is no need to worry anymore, as we at Outdoor Upholstery Dubai have got you a complete guide on comfort with outdoor cushions.
Types Of Fabric Used To Make Cushions
Here are some fabrics used to make cushions for outdoor living areas.
Vinyl is a synthetic fabric used to make cushions and is a renewable and cheap resource. Vinyl is popular because of its durability, and there is no doubt that vinyl cushions are easy to clean. However, vinyl cushions are likely to get hot when placed under direct sunlight for a prolonged period of time, so you might need to reconsider their choice if your seating setup is meant to be exposed to sunlight.
Cushions made from Textilene would be an excellent choice because this fabric has a lot of benefits. Textilene is made from a polyester fiber and is famous for its durability, water resistance, and breathability. If you are investing in outdoor cushions, try to select Textilene as those cushions will be long-lasting. This fabric could also be a good choice for making Umbrellas, Chair upholstery and outdoor cushions.
Most people choose olefin fabric for their comfort with outdoor cushions. The reason is its waterproof quality.
If you live in a place of heavy rainfall, you must select olefin fabric as it will not be damaged by the heavy rain and olefin cushions are easy to clean as well.
If you prefer modern outdoor furniture, you must go with cushions made from sunbrella fabric because it can withstand extreme weather and temperature. Besides, it's easy to clean and has greater stain resistance too.
Cotton canvas is an ideal fabric for outdoor cushions because it is durable and easy to clean. Also, there is no possibility of wrinkles on pillows and cushions made from cotton canvas. Most importantly, cotton canvas has the property of water resistance, which is why it is used in many outdoor products.
Things To Consider Before Buying An Outdoor Cushion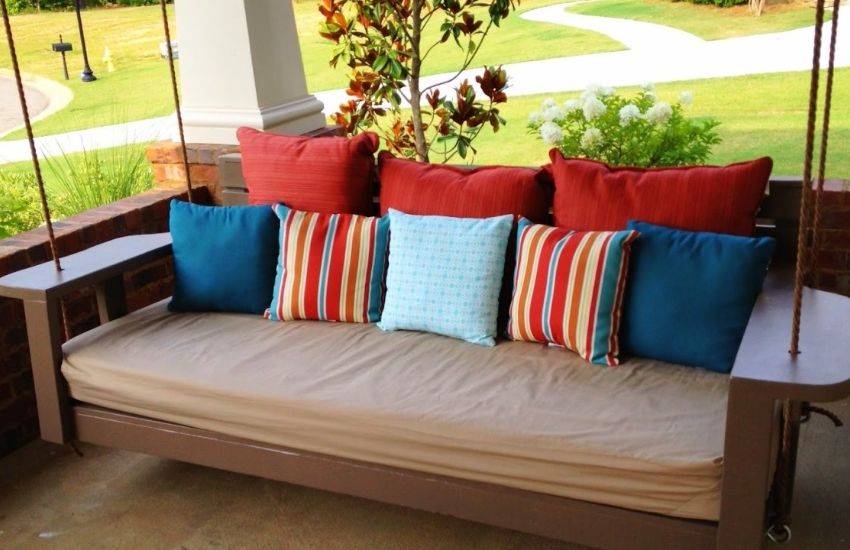 Cushions are an essential part of your home decor that not only enhance the beauty of your outdoors but also elevate the comfort level of your furniture. However, before buying outdoor cushions, there are some essential things you should consider.
Weather Condition
Weather conditions are the most important thing to consider before buying an outdoor cushion. Factors like humidity, heavy rainfall, and extreme exposure to sunlight can affect your comfort with outdoor cushions. So, these considerations are necessary before buying an outdoor cushion.
Spot to Place the Product
Another essential thing to consider before buying a pillow or cushion for your outdoor space is the area where you will place it.
Are you putting your cushion directly under the sunlight, or are you placing your cushion beneath a vast tree? These factors should be considered because extreme exposure to sunlight can affect your cushion's longevity, and any debris from the trees can be the reason for problematic stains.
Longevity
Talking about the longevity of the product you are buying. Some people have a habit of changing their outdoor furniture after a short period, and that is quite good as sometimes change could be a reason to reduce stress, but some people want to use cushions and pillows for more extended periods.
For the longevity of the cushions, there is a need for more investment. By purchasing good quality and heavy-duty cushions, the longevity could be better ensured, and you can utilize the cushions or pillows for a longer period of time.
Check the Manufacturers' Warranty
If you are investing in your outdoor cushion, it is necessary to first check on its manufacturer's warranty. The warranty on the cushions can be a relief because it reduces the tension of early damage to the cushion, plus it ensures their durability as well.
Easy Maintenance
Last but not least, there should be the quality of easy cleaning in the cushion that you are buying. Most of the cushions require proper cleaning regularly. So, choose the one that can be cleaned easily with a mild detergent or at best only with water. Cushions with better stain-resistance can be cleaned easily. You can also get washing and maintenance tips from where you bought your pillows and cushions.
Essential Tips to Clean the Cushions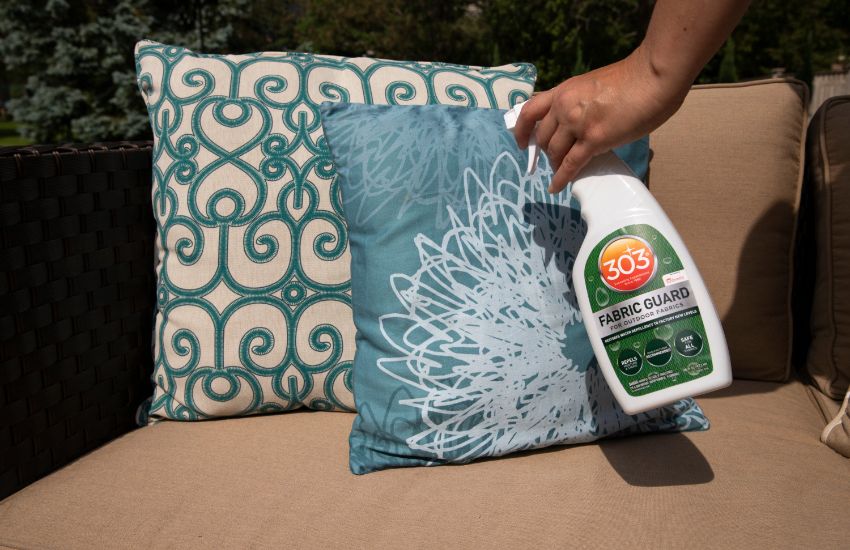 Here are some of the easy tips you can use to clean your cushions.
Regularly remove dust particles from the cushions by using a brush or microfiber cloth.
You can also use a vacuum to clean the cushions.
When cleaning the cushions, don't rub them harshly, as it may harm them
Try to keep cushions away from excess sunlight as it could be the reason for their damage.
Conclusion
In today's world, everyone wants perfection, whether for their home or their personality. We at Outdoor Upholstery Dubai provide a modern and classic look for your home and outdoors. Cushions are what people use for comfort, and what if you buy a cushion that doesn't provide relaxation? So, follow the guide like durability, easy maintenance, best quality fabric, waterproof and water-resistant before purchasing a pillow as it will help in the longevity and best quality.