Your outdoor living spaces can be made more aesthetically pleasing and practical by adding outdoor rugs. Whether you have a patio, deck, or garden, a carefully designed outdoor rug can turn the area into a warm and welcoming spot for entertainment and relaxation. But with plenty of variations available, choosing the best outdoor rugs for home can be a difficult challenge. This tutorial will examine the crucial variables to consider when choosing outdoor rugs for your home, so as to assist you in making an informed choice.
Materials To Look For Outdoor Rugs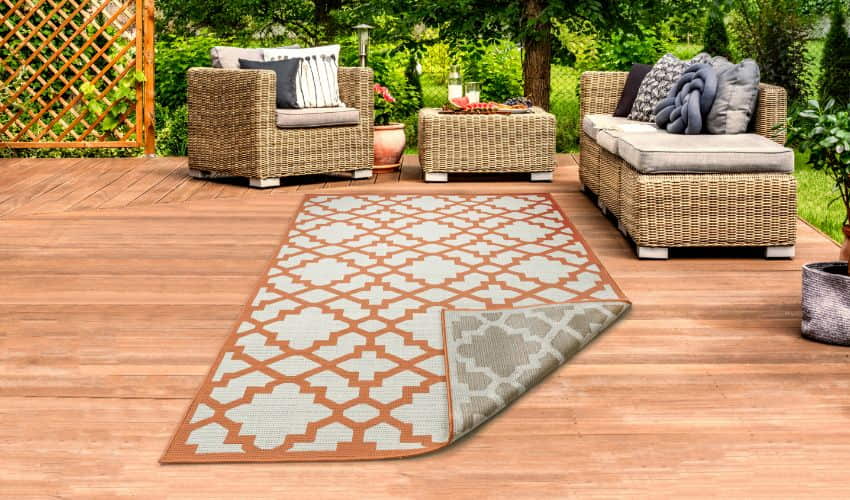 When choosing an outdoor rug, the construction materials are always the most important consideration. Outdoor rugs for home need to be durable enough to resist exposure to different elements like rain, sunlight, and foot activity. Here are a few common materials for outdoor rugs:
1. Synthetic Fiber
Materials like polypropylene, polyester, or nylon are frequently used in outdoor rugs, due to their sturdiness and resilience to fading and dampness. Synthetic fibers are a common choice for outdoor environments since they are simple to maintain and clean.
2. Natural Fibers
Your outdoor space can benefit from the organic feel that comes from using natural materials like bamboo, jute, or sisal. However, you need to keep them in covered or semi-covered places because they might not be as weatherproof as synthetic alternatives.
3. Recycled Plastic
Homeowners who care about the environment could choose rugs made of recycled plastic. These rugs are usually long-lasting, resilient, and moisture and UV resistant.
Size And Shapes Of Rugs To Make A Perfect Fit Outdoor Area
In order to make sure the outdoor rug fits well into your outdoor space and harmonizes with your furniture arrangement, it is essential to choose the right size and shapes. Here are some aspects to take into account while picking the appropriate size and forms for outdoor rugs.
Consider Accurate Size For Ideal Look
1. Measure The Space
Measure the area you want to cover before buying an outdoor rug. To precisely measure the length and width, use a tape measure. The primary seating or dining area must be covered by the rug, leaving enough space around the perimeter.
2. Furniture Placement
Think about where you want to put your outdoor furniture. If you have a dining table and chairs, the rugs need to be big enough for accommodating everything comfortably. The rug for the seating area should be large enough to accommodate all of the furniture legs, resulting in a unified and warm atmosphere.
3. Clearance
To avoid looking crowded, provide ample space around the rug's perimeter. As a general rule, you should leave 12 to 18 inches on the floor space between the edge of the rug and any walls or other restrictions.
Multiple Shapes Of Rugs To Give An Aesthetic Appeal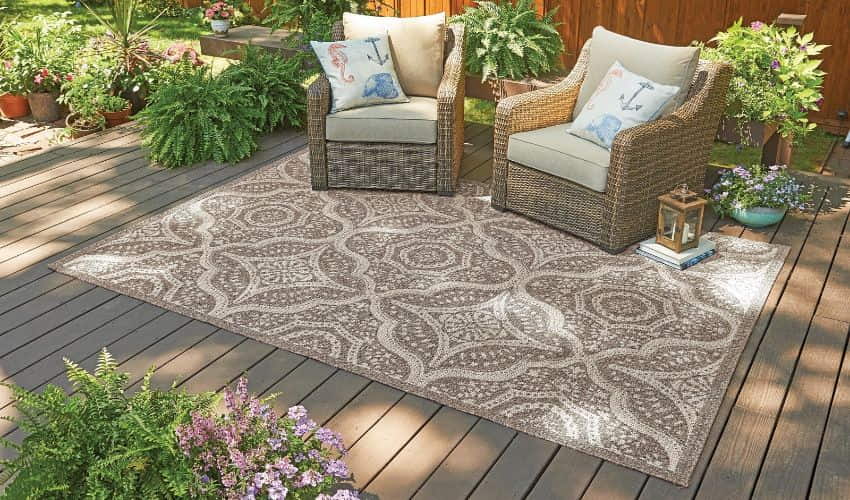 1. Rectangular
Outdoor rugs in rectangular shapes are the most common and useful kind. They complement seating arrangements with a sofa and chair as well as rectangular or oval dining tables. A rectangular rug's clean lines can help define the area and establish order.
2. Round
For patios with circular furniture configurations or smaller seating areas, round outdoor rugs are a terrific option. A round rug can offer a sense of elegance and visual appeal by softening the angles of the square or rectangular patio.
3. Square
Square outdoor rugs can be a great option to establish a cozy niche in your outdoor space or to match square seating layouts. They can provide the appearance of being well-balanced and harmonic, particularly if your furniture is arranged symmetrically.
4. Runner
A runner-style outdoor rug can offer a pop of color and comfort to a long and narrow outdoor space like a balcony, terrace, or pathway. Runners bring both flair and usefulness because they are lengthy and they can fit nicely in small places.
Design And Style To Complement Outdoor Aesthetics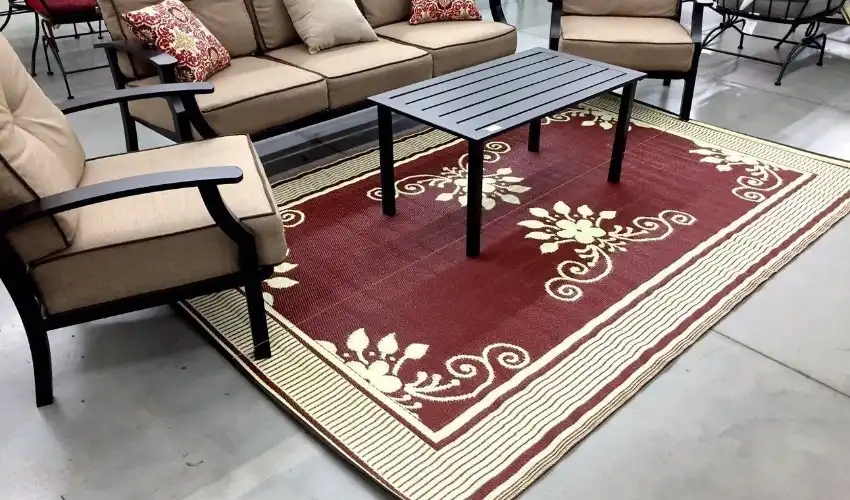 To match various outdoor aesthetics, outdoor rugs are available in a variety of styles colors, and patterns. To choose a design that complements your taste, consider the following factors:
1. Aesthetic Harmony
To make a setting that flows together and feels warm and inviting, coordinate the pattern and color of the rug with your current outdoor theme, furniture, and cushions.
2. Patterns
Consider using a solid-colored rug to bring harmony to a busy outdoor space with elaborate furniture design. Alternately, if you want to bring personality to a plain and minimalist room, pick a rug with a striking design.
3. Geometric VS Organic
Choose a rug with a geometric shape for a modern appearance or an organic design for a more natural and rustic appearance.
Water And Atmospheric Resistance
It's critical to select an outdoor rug that can survive a variety of weather conditions because they will be exposed to various damaging elements.
1. Water Resistant
To avoid fading and color damage brought on by prolonged sun exposure, look for rugs with UV protection.
2. UV Resistant
Choose rugs that dry quickly and are resistant to mold and mildew growth. If your area is humid or it gets frequent rains, this is very crucial.
3. Durability
Invest in a rug with sturdy binding and well-done stitching to make sure it can survive daily wear and heavy foot activity.
Easy To Maintain Options
Your outdoor soft flooring needs to be simple to maintain to keep looking new and lovely. Before buying, think about the maintenance factor listed below:
1. Cleanability
Make sure that your chosen rug is simple to clean by hosing it down or cleaning it with mild soap and water. Avoid rugs that demand elaborate cleaning techniques.
2. Stain Resistance
In outdoor settings, incidental spills and stains are frequent, so look for rugs with stain-resistance qualities.
3. Storage
Consider a rug that can be simply rolled up and stored indoors during the colder months if you are in a region with severe winters.
Budget Your Investment For High-Quality Outdoor Rugs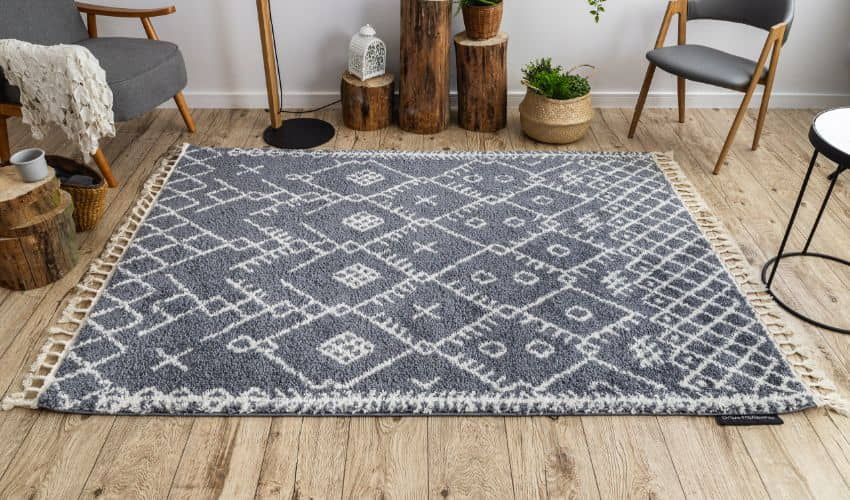 Setting a budget before you begin shopping for outdoor rugs is crucial because the price range for these items can be high. While purchasing a high-quality rug can assure lifespan and better overall performance, cheaper options might be alluring.
Conclusion
Consideration of several significant elements is required while selecting the ideal outdoor soft flooring for your home. Important considerations to keep in mind include material durability, size and shape, design and style, weather resistance, and maintenance needs. You can select the ideal outdoor rug that not only improves the looks of your home but also endures the test of time by carefully examining these elements and matching your rugs with your tastes and outdoor space requirements.