Outdoor Sofa Dubai Provide Luxury Look to Your Outside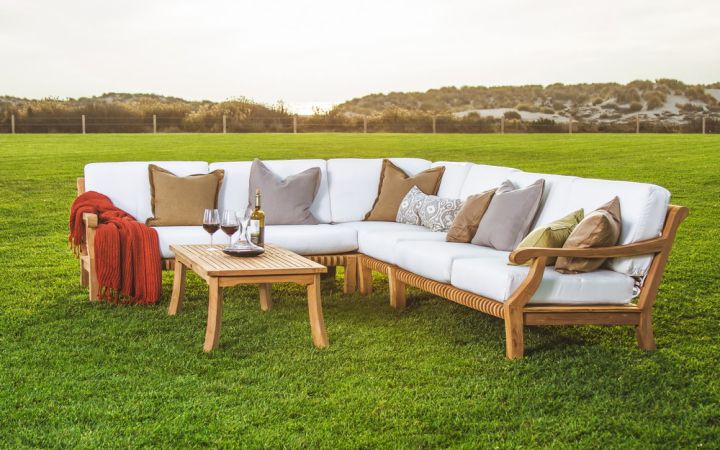 Get The Best Deals of Outdoor Sofa Dubai
Do you need to add beauty to your outdoor space, and have no idea which is the best option? Outdoor Sofa Dubai is the best option to add beauty to your outdoor sapce.
It's confusion that teases you in selection. So if you are looking to sit with your family and friends and withstand all weather conditions, then these corner sofa in Dubai can be your first choice.
At outdoor upholstery Dubai, most of your conservatory and garden outdoor furniture makes that use in your daily life. So we are an ideal choice to give a fantastic look to your stunning perfect furniture. We will not only provide the best furniture outside sofa Dubai sets; moreover, we will provide care and maintenance free of cost. Our Dubai outdoor chair set is now an extension of our living space, with many of us making use of our greenhouse, patio, or deck throughout the year.
This need to use our outdoor space every day of the year means we must select sturdy, robust, and weather tolerant garden furniture. Outdoor furniture should also be comfortable, desirable, and made for friends to relax and socialize. It is when furniture from the garden is the obvious alternative. We'll discuss very different Outdoor Sofa Dubai corner sets that are beautiful, trendy, and built to be used throughout the year.
Use Ideal Sofa For Outside
A sofa set from us looks just like a modern indoor sofa but is ideal for outdoor use. It features color-fast cushions, which are waterproof as well, and the powder-coated frame does not rust or tarnish.
If you have little kids or sometimes welcome friends with little ones to your home, then rest assure that this patio corner sofa in Dubai set is child-friendly. The table is made of thick safety glass, and it is machine washable for all cushion covers. To find out more about this outdoor sofa Dubai new sets, then please visit the website or contact us today.
Types of Outdoor Sofa in Dubai
The right material for your outdoor furniture is externally durable and needs less maintenance. At outdoor upholstery Dubai, it is available in several material styles, described below:
Steel or Wrought Iron Furniture
Steel or wrought iron furnishings are sturdy and durable. It's loud and needsn't be kept indoors. However, every now and then, you'll need to paint in. Their weight does not matter, as there is no need to drive them inside when the season is unfavorable for the garden sofa Dubai seating.
Plastic or Resin Furniture
Garden furniture made from plastic or resin is lightweight and inexpensive. It is immune to weather and can last very long. Cleaning is easy. However, if it is exposed to long periods of direct sunlight, it can fade and lose its brightness. The great thing about plastic furniture for gardeners is that it's convenient, and no extra luxury covers are required.
Aluminum Furniture
Furniture in aluminum is lightweight, easy to clean, rust-proof, without painting, or processing. It can be easily moved because it is lightweight. You can quickly switch your aluminium furniture to indoor storage when the weather is too cold to sit outside. This will make your furniture and Outdoor Sofa Dubai more life-long.
 Real Wooden Furniture
The most complimentary type of garden furniture, wood furniture is by far. It perfectly blends in with the garden environment. The problem with wooden garden furniture though is that it needs daily preservative care. The best garden furniture styles for wood include teak, cedar, cypress, or redwood.
 Cushion fabric
The cushion fabric is made of woven and plastic coated fibers. It is light, simple, easy to clean, weatherproof, and it needs no painting or treatment. It is immune to the freezing of the sun, snow, and ultra-terrestrial rays, meaning that it will not decay into color even if left out for long. It comes in a variety of stylish styles.
How to Select Outdoor Sofa UAE?
Outdoor sofa UAE relaxation and entertaining factors are not merely reserved for the indoors, but in fact, the transition for outdoor living is also essential but unsure what furniture fits with your open-air lifestyle,
So there are four considerations for the selection of sofas.
Aluminium
Wood
Plastic
Wicker
Each material has pros and cons, so it depends on the aesthetic and craftsmanship you're going to hiring for designing your Outdoor Sofa Dubai.