To make the most of your outdoor living experience, you must design a welcoming and useful outdoor environment. Patio furniture and outdoor sofas are two common options for outfitting and furnishing outdoor spaces. Which alternative is best for your outside area relies on a number of factors, even though each has special benefits of its own. We will go through the features, advantages, and factors to take into account when choosing outdoor sofas and patio sets in this article, so you can make the decision that best meets your requirements and taste.
Features Of Sofas For Outdoor Living Space
Outdoor sofas are a fashionable and adaptable option for any outdoor living area. Usually, they are made up of a two or three-seater setup with cozy cushions and sturdy frameworks that can resist different types of weather.
When choosing an outdoor sofa, keep the following important elements in mind:
1. Design And Aesthetics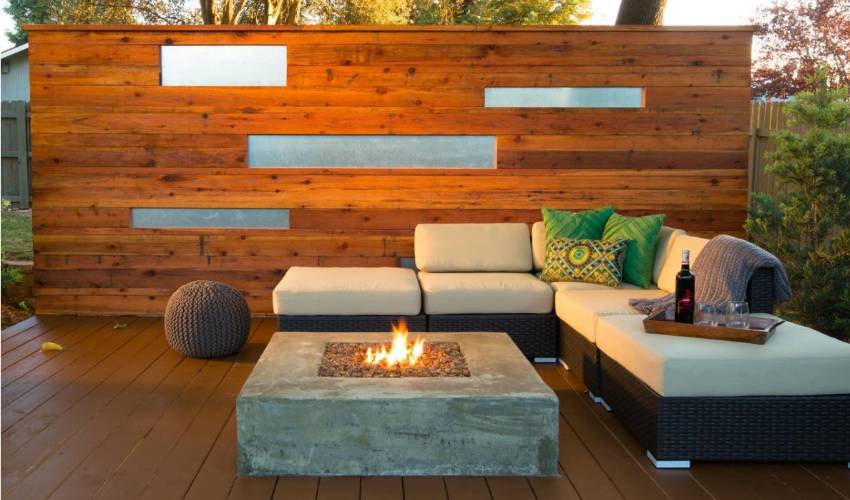 Outdoor couches are available in a variety of styles, from traditional and rustic to modern and minimalist. They frequently have streamlined designs and modern components like rattan, wicker, or aluminum. With so many types to choose from, you can discover an outdoor sofa that both expresses your desired style and blends in with your outdoor decor.
2. Comfort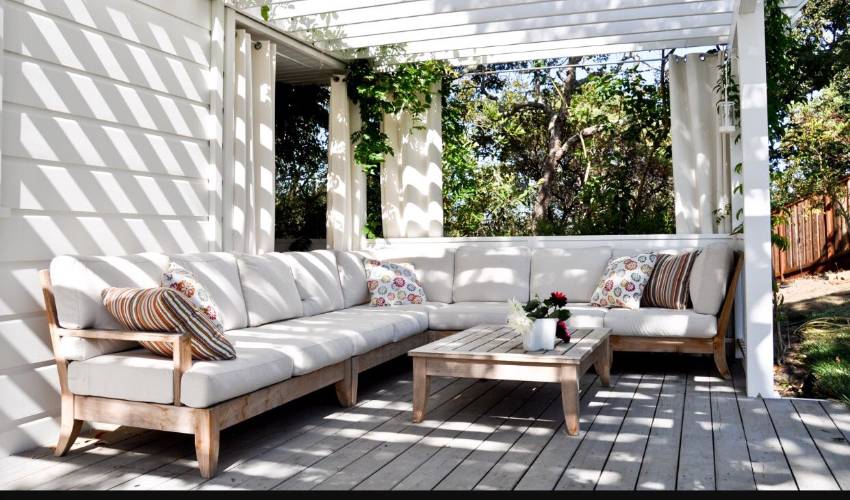 The comfort factor of outdoor sofas is one of its key benefits. The large seating area and soft cushions create a cozy and soothing ambiance, which makes them ideal for hosting gatherings or spending quality time outside with the family.
3. Flexibility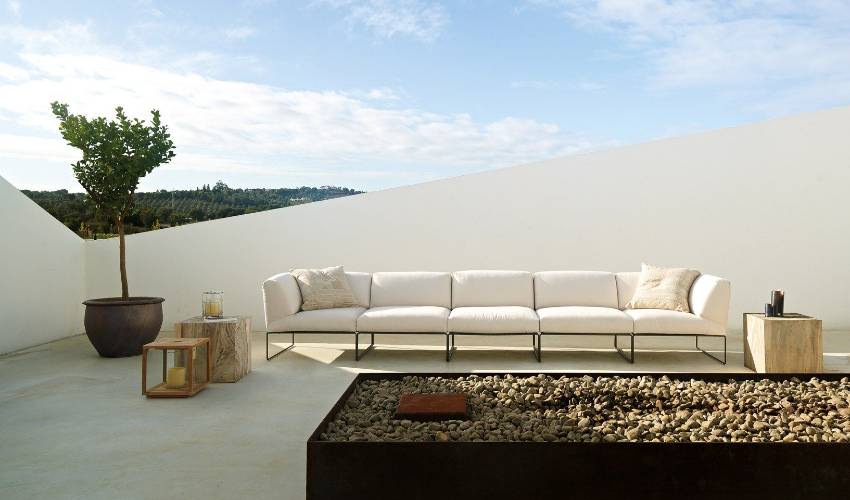 Patio couches provide versatility in terms of placement and personalization. You can easily get standalone items or modular sets that let you arrange the chairs to fit your unique outdoor area. You can also combine several components to make a one-of-a-kind arrangement that suits your tastes.
4. Space Considerations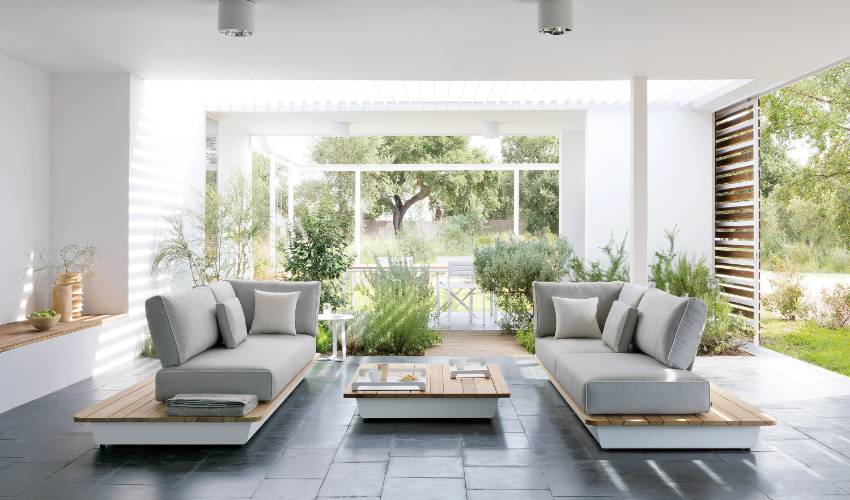 Even though they can be quite roomy, outdoor couches might not be appropriate for tiny or constrained outside areas. Make sure to take precise measurements of your outdoor space and select an outdoor sofa that fits comfortably without taking up too much space.
5. Maintenance
Outdoor sofas require frequent maintenance to keep them looking their best. Cushions should be dry-stored or kept inside when not in use, and the frame should be cleaned often to prevent dirt and grime buildup.
Elements Of Patio Sets For Outdoor Living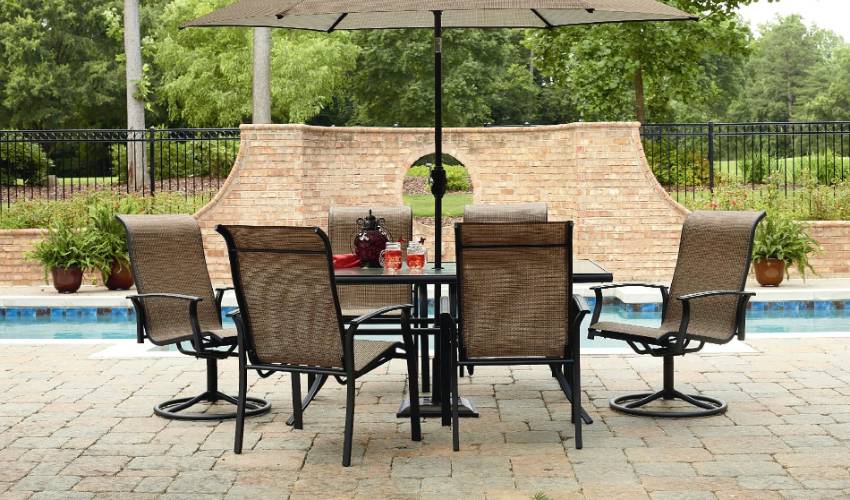 Patio sets are made primarily for dining and entertaining outside. They are often referred to as dining sets or outdoor dining sets. Usually, these sets come with a table and seats that match, constructed from materials such as metal, plastic, or wood. When thinking about a patio set, keep the following things in mind:
1. Dining And Entertaining
Patio sets are ideal for gatherings and dining outdoors. With a patio set, you can set out a specific area for entertaining, dining with family, or simply enjoying cocktails with friends.
2. Compact And Space Saving
Because a patio set takes up less space than an outdoor sofa, it's a wonderful choice if your outdoor space is tiny. The compact size allows you to fit in a good number of people, making the most of the available space.
3. Durability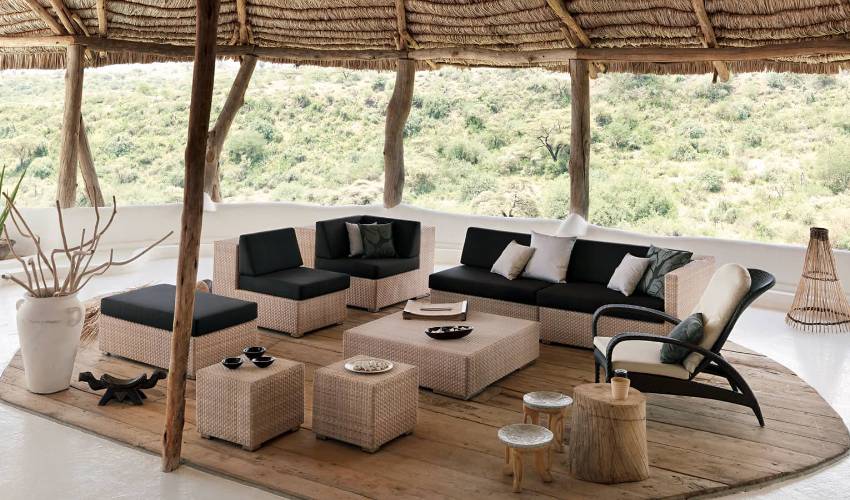 Patio sets are typically made of durable materials like teak, aluminum, or powder-coated steel because they are intended to withstand exposure to a variety of weather conditions.
4. Easy Maintenance
Patio furniture is usually easy to maintain. For wood sets, regular cleaning and the occasional refinishing or sealing can keep them looking fantastic for many years.
5. Seating Capacity
When choosing a patio set, take into account how many seats it includes and whether it will accommodate your typical number of visitors. For larger events, certain sets might be extendable to accommodate more chairs.
Outdoor Sofa VS Patio Set: Factors To Consider When Choosing
Take into account the following aspects while choosing between a patio set and an outdoor sofa:
1. Intended Use
Consider the main uses you have in mind for your outside area. For those who want to lounge and unwind, an outdoor sofa might be a great choice. However, a patio set would be more appropriate if you entertain frequently.
2. Available Space
To calculate how much room you can set aside for furnishings, measure your outdoor space. While patio sets are more adaptable in small spaces, larger outdoor sofas might be more appropriate for rooms with ample patio space.
3. Climate And Weather
Think about the weather and climate where you live. Consider purchasing furniture made of weather-resistant materials that require little upkeep if your area sees a lot of rain or extremely high temperatures.
4. Budget
The cost of outdoor furniture can vary greatly. Establish a spending limit and look into solutions that satisfy your standards for quality and design while staying within your means.
In Conclusion
To sum up, both patio sets and outdoor couches have special advantages when it comes to outfitting your outdoor area. The best option will depend upon your budget, design taste, lifestyle, and available spaces. Outdoor sofas are ideal for relaxing since they offer comfort, style, and adaptability. However, patio sets are great for entertaining and dining, particularly in small outdoor spaces. Make sure you choose the solution that improves your outdoor living experience for many years to come by carefully evaluating your needs and preferences.