Are you trying to transform your outdoor living space with modern and durable outdoor sofas? Sofas offer styling and comfort within affordable rates but choosing a sofa set that goes perfectly with your outdoor area theme is a real trouble. There is no need to worry about this anymore, in this blog we are discussing this issue very briefly.
The trend of creating an outdoor oasis has increased since COVID-19; when everyone has to stay at home, a backyard needs to be transformed into a most relaxing and comfortable place to spend time. After that time, different furnishing materials for outdoor living discovered, like outdoor sofas, custom made tables, lighting, and many more. Everyone wants to have a perfect place to sit in the backyard. We at Outdoor Upholstery Dubai provide a complete guide to outdoor sofas.
Best Material Choice for your Outdoor Couches / sofas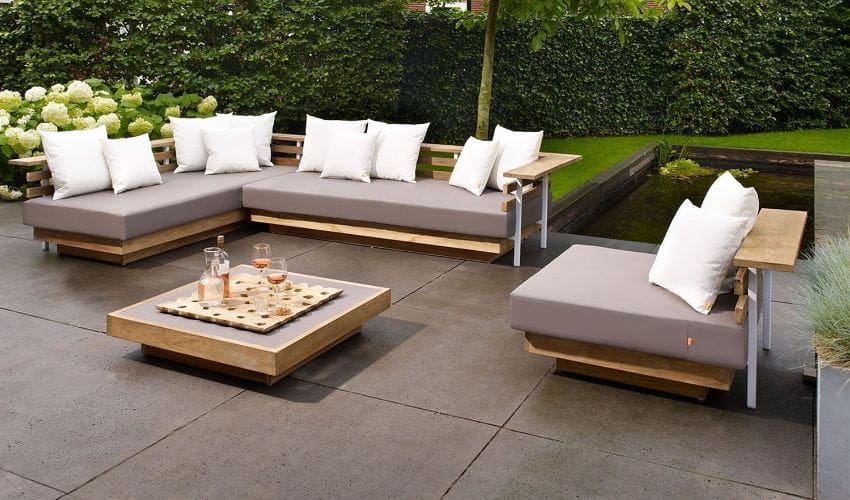 Garden Furniture, especially durable outdoor sofas, is integral to our outdoor living space. Selecting a sofa with the best quality for your backyard is a challenging decision. Before buying the outdoor sofa, try to know the material from which it is made: wood, Rattan, and teak to make outdoor and indoor furniture.
Metal Could be a Good Choice
Sofas made of metal could be a good choice for your backyard as the metal is not prone to decay, just like wood. Termites can not eat metal. So, when buying a sofa for outdoor living, consider materials like metal, Steel, Iron, and Aluminium.
Furthermore, metal is also known for its sustainability. It is essential to let you know that since the 1800s, metal has been considered the best option for outdoor furniture, but everything has some drawbacks; lifting furniture made of iron is challenging. The other liability is that the paint can be destroyed if improperly handled.
Why do most people choose Wood?
Wood is a hard-wearing material, which means it is durable. It is proven that wood is resistant to heat and corrosion. According to the study, a hundred years old construction proves that wood is durable. Commonly used materials for wood furniture are teak and teakwood.
Knowing that the best wood for outdoor furniture must have natural properties, like heat resistance, is essential. It must be durable. Teakwood has a crude oil makes it weather-resistant and keeps the pets away. Eucalyptus is a type of wood mainly used in many kinds of furniture.
If you want a modern and classic sofa, go with the teak wood style. This sofa design has an individual seater sofa and a main sofa with two or three seats.
Sofas made of Synthetic Resin Wicker
The Synthetic Resin Wicker is mainly used for outdoor area furnishing. This is made of nylon and polyethylene. This material is easy to maintain. Furthermore, the sofas made from the resin wicker are water resistant.
Sofa Upholstery
The sofas that contain natural fabrics like cotton are also used outdoor and are primarily in demand. Cotton is a natural fabric that is easy to sit and maintain. It has factors like breathability, durability, and comfort. Sofas with such upholstery could be a good option for Dubai weather.
Essential Aspects to Consider for Durable Outdoor Sofas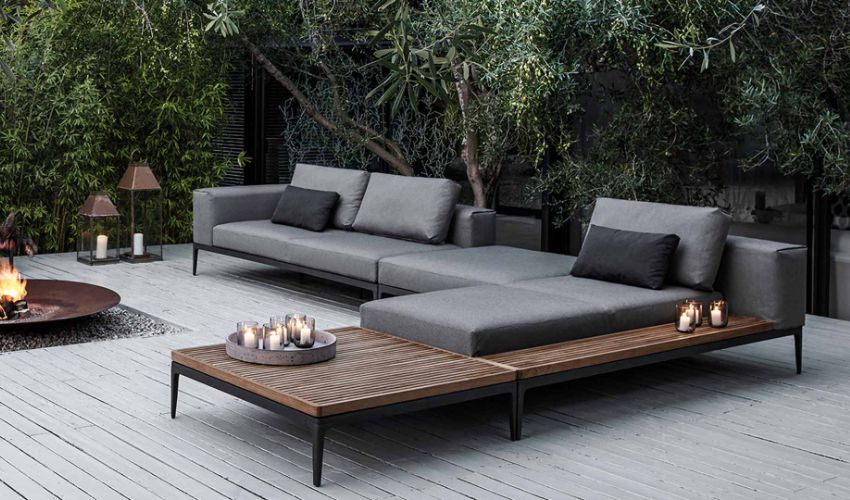 Before deciding to buy an outdoor sofa, you should consider some essential things.
Weather Resistance
Essential factor for outdoor place's sofa/ couches should be their weather-resitant quality. If you live in an area of high rainfall, try to invest in a material that is easy to maintain and water-resistant.
High Durability
Buying durable outdoor sofas made from high-quality materials for their long-term use is essential. For prolonged use, the sofas must be durable and withstand extreme weather conditions.
Relaxing and Comfortable Seating
As you invest for your ease and comfort, your choice for your outdoor sofas must contain enough-depth upholstery treatments. The seating must be comfortable with enough depth and upholstery so you can spend quality time.
Easy to Maintain
The factors you are considering for your sofas must include easy maintenance. As furniture gets germs and bacteria quickly, it is essential to keep the table clean. Everyone wants easy care, or the proper cleaning takes time, so try to choose sofas that can be cleaned easily.
Elegant Designs
Sofas are part of our home that completes the overall look. So, the sofa's design must be elegant. If you are social and fond of gatherings at your home, you must select durable outdoor sofas with beautiful designs.
Consider your space
The most important thing to consider while buying a sofa for your outdoor area is the space. Before purchasing a couch, try to determine the area where you decide to buy furniture. The sofa set you are trying to buy must fit in the space without creating any suffocation.
Budget Estimation
Lastly, estimate the budget before buying a sofa for your outdoor area. Never go out of your budget and always visit 3-5 shops before making a purchase.
Ending Note
Outdoor furniture is essential to sit and relax. There are different materials and designs for the outdoor couches or sofas. To create your perfect outdoor oasis, select a good and attractive sofa with weather-resistance properties. In this article, you can have complete knowledge about the material, top trends, and considerations regarding quality sofas so you can style your outdoor space following the trend.