Do you want to add style and decoration in your living space and give it an inviting and welcoming look with the latest trendy outdoor rugs ideas? One such crucial element is the floor rug, particularly for outdoor environments. Different rugs styles not only make your space comfy but also enhance the aesthetic and visual appeal. They also connect areas like rooms and spaces. Outdoor Upholstery Dubai has got you a list of the best outdoor rug styles.
Five Best Outdoor Rugs
It is always important to change the decor of your home; it not only freshens up your mind but also generates various beneficial outcomes. We've got you a range of options from which you can choose the perfect rug styling for your decor setup outdoors.
Border Area Rug
A rug with a finely designed border area gives out a traditional look. Furthermore, the border area rug is easily identifiable and helps define a space as well. You can find various attractive designs on the edges of the border area rug. Cotton and wool are the common materials used to make high-quality outdoor rugs. Furthermore, sisal is also used to manufacture these rugs.
The border area rugs can be used for different settings. They also have distinctive shapes and provide plenty of comfort and relaxation everywhere they are placed. Round, square, and rectangle are some of the shapes in which you can get the border area rug.
Re-Jute Rug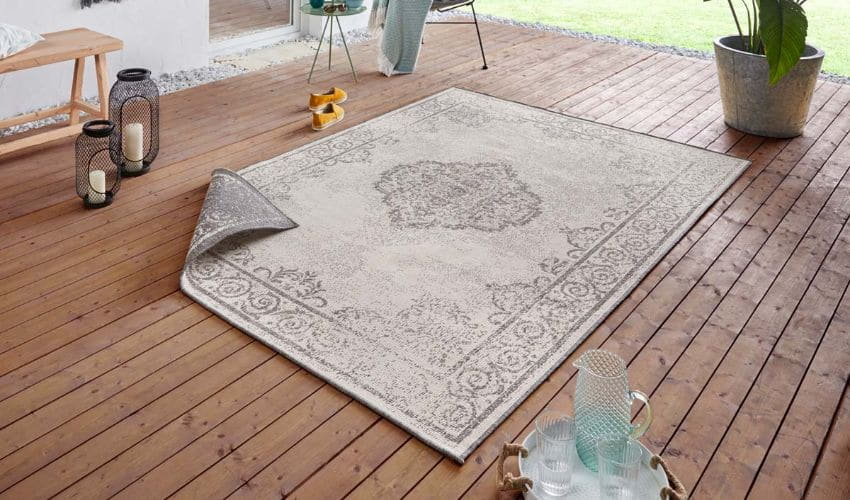 The Re-Jute is a type of rug made from plastic bottles by their recycling. For your outdoor area, you can use Re-Jute Rugs because they are easy to clean and hard-wearing as well. This rug styling offers a classy and fascinating look to our space. It is a versatile choice which means it can go with any interior design from boho to eclectic.
Re-Jute rugs come in various patterns, and these low-cost rugs can be a great choice for every space. These are the types of rugs that are always in fashion due to their versatility and durability.
Striped Rugs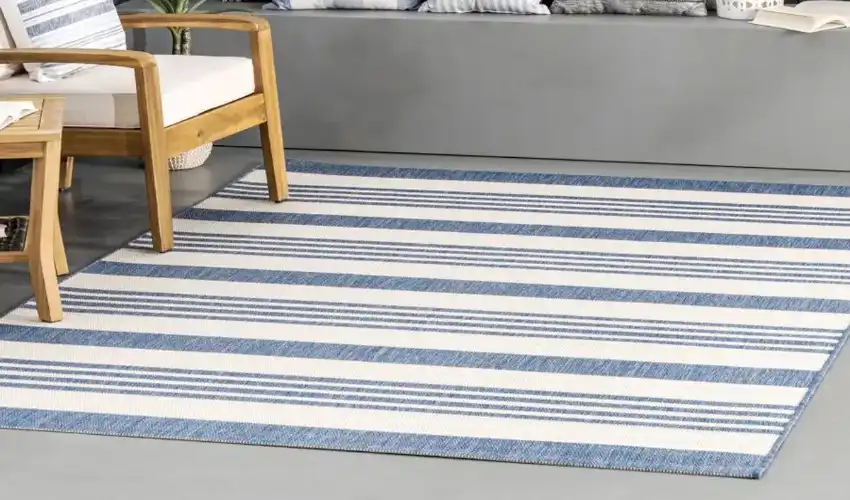 Striped rugs are always in trend and are designed with parallel lines on them with a contrast of two colors (bicolor theme). They always enhance the beauty of outdoor area if are chosen by focusing decor ideas. These rugs are also great for hiding stains. The striped rugs can go with any decoration, plus by these rugs, every area looks more well-put-together, making them a great choice for outdoors. You can choose a two toned striped rug as it will draw the attraction of most people and will act as a focal point of the space. To add a festive look to your space, choose muted and earthy colors like gray, blues, or cream.
Jade Rug
Jade rugs can be used as outdoor rugs because of their easy maintenance. The materials used in its composition are propylene and polyester. They are not just easy to clean but also add a sophisticated style to your area. To complement your space, use a round rug with patterned edges. This style of rug is considered a French style. You can style multiple spaces with them according to the preferred (decor) styling theme. They are highly stain-resistant and you can use any detergent and vacuum for their cleaning.
Reversible Rugs
These are known as criss-cross style rugs. You can use its both sides and you can place them for a little longer than others. This is the reason most people call it a two in one rug. They can fit with every decor theme due to their numerous designs, colors, and patterns. They can fit in any space due to their versatility. These rugs are very cost-effective and functional, especially for outdoor areas.
Conclusion
Rugs are not used just as an attraction for your outdoor space but they also help catching dirt particles so they don't enter inside your building. In this article, we have shared some fascinating outdoor rugs ideas for your outdoor space that you can opt. Always double check your decor theme before introducing a rug to your space to avoid decoration mess.