Outdoor upholstery is essential to create a cozy and welcoming outside area with the correct materials, upkeep, and a dash of design. Your outdoor furniture and cushions can become a breathtaking haven, whether you have a small patio, an expensive garden, or a deck. To ensure your outdoor heaven remains stylish and useful all year long, we'll go through all you need to know about Outdoor Upholstery materials in this guide.
Choosing The Right Material For Outdoor Furniture Upholstery
1. Water-Resistant Fabric
A crucial aspect to consider while selecting outdoor upholstery is its resilience to inclement weather. For outdoor furniture, materials like acrylic, polyester, and solution-dyed textiles are great options. These materials are long-lasting and ideal for outdoor use because they are specifically made to withstand fading, mold, mildew, and water damage. Additionally, they maintain the intensity of their colors even after extended exposure to the sun, keeping your furniture looking new and attractive for many years.
2. Breathable Fabrics
Choose textiles that provide enough airflow. Materials that are breathable help in preventing the accumulation of trapped moisture, which can promote the formation of mold and mildew. For outdoor cushions, quick-dry materials, and mesh-like textile work well since they allow air to circulate, keeping your seats dry and comfy even in humid weather.
3. UV Protection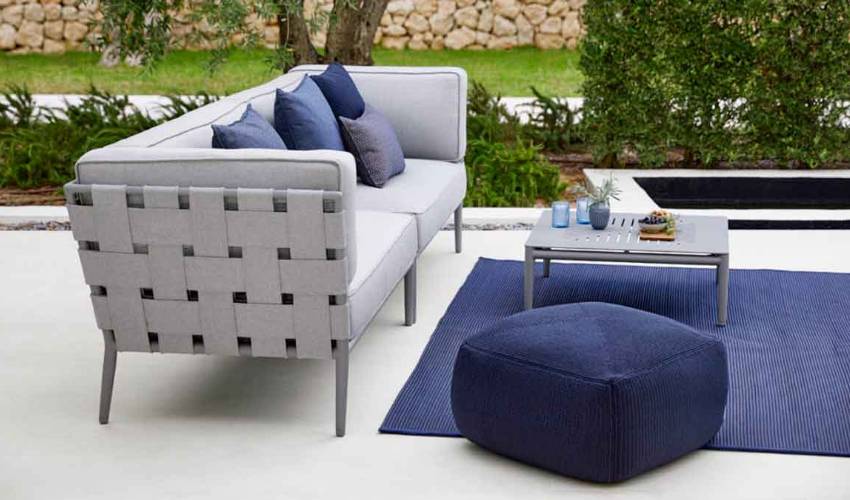 Color fading in cloth can occur over time with prolonged weather exposure. For upholstery protection against UV radiation, choose textiles with integrated UV protection. To keep your outdoor furniture aesthetically appealing and eye-catching, UV-resistance materials assist maintain the vitality of colors and patterns.
4. Water Proof Fabrics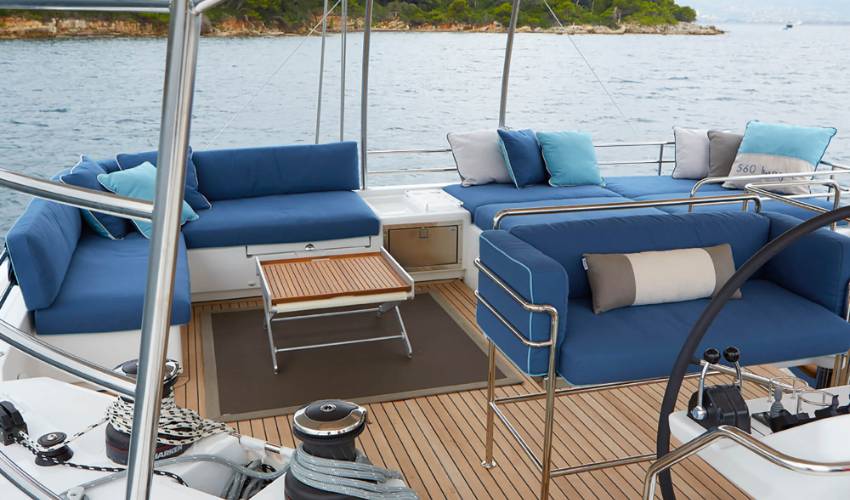 Think about applying a waterproof covering to shield your outdoor furniture from spills and unexpected downpours as well. A fabric treatment that adds a layer of protection against moisture or a waterproof liner are two examples of this. Your upholstery's overall quality can be preserved and water damage can be avoided with waterproofing.
5. Durable And Clean Materials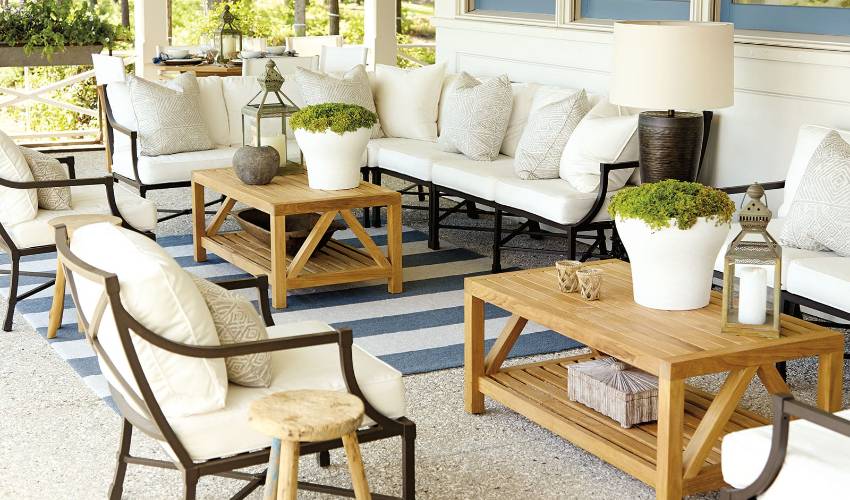 In addition to being resistant to weather, durability, and ease of washing are other important factors. Select materials that can be easily cleaned with a little soap and water. Because stain-resistant materials are easy to clean after unintentional spills or stains. This way, your outdoor furniture will remain pristine and fresh longer.
6. Style And Aesthetics
Remember that style and beautification are just as important as durability and functionality. You have the chance to bring your individual style choice to life with outdoor furniture upholstery. Select textiles that complement your overall concept for outdoor design, and think about coordinating colors and patterns to create a setting that is both aesthetically pleasing and welcoming.
Maintenance And Care Of Outdoor Upholstery
1. Regular Cleaning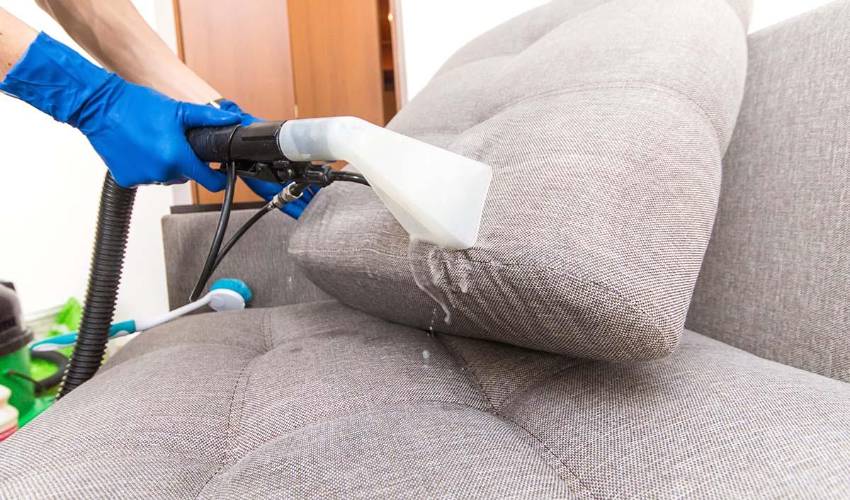 For your outdoor upholstery, establish a cleaning schedule. The cushions and furniture frames should have dirt and debris regularly brushed away. Scrub any stains carefully with a solution of water and mild soap. Before using the upholstery again, give it a thorough rinse and allow it to hang out to dry naturally.
2. Storage During Harsh Weather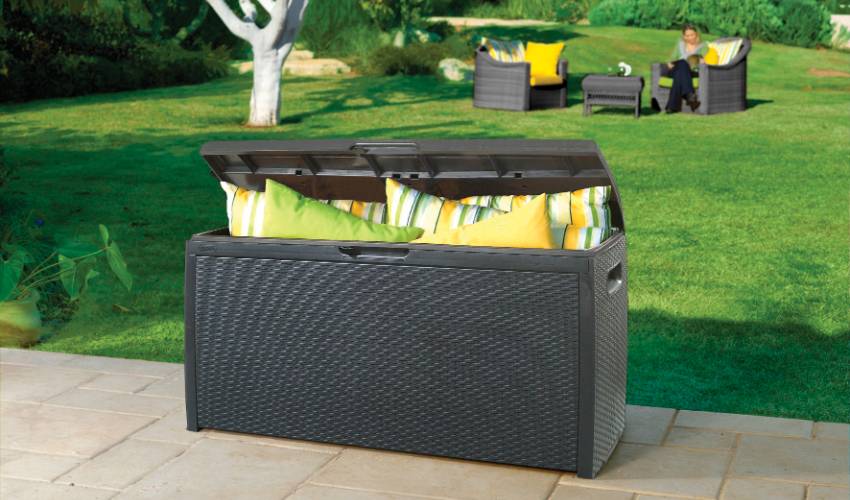 Consider putting your outdoor furniture upholstery and cushions in a dry, well-ventilated area during prolonged inactivity or bad weather. This can guard against the fabric fading from sustained sun exposure or damage from inclement weather, as well as help in the prevention of mold and mildew growth.
3. Protective Covers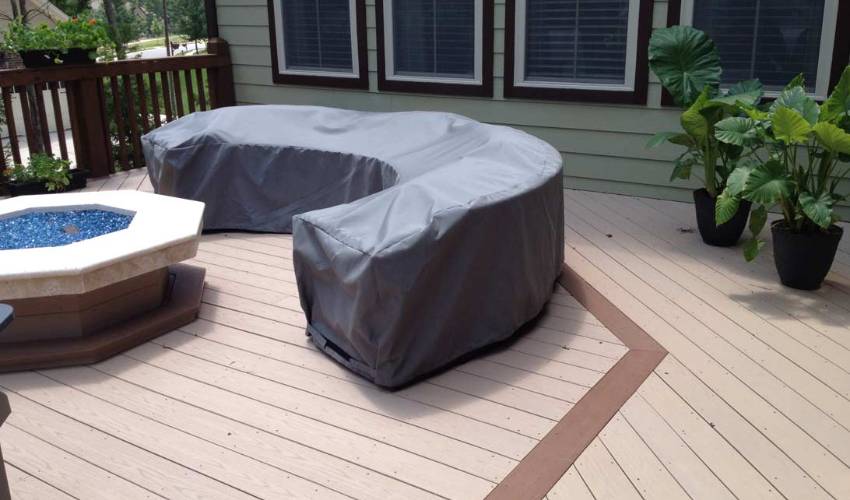 Invest in high-quality, outdoor furniture covers that can withstand external elements. An additional line of defense against debris, UV radiation, rain, and other environmental elements is offered by protective covers. To keep your furniture well protected, make sure the covers fit well and are fastened.
4. Proper Drying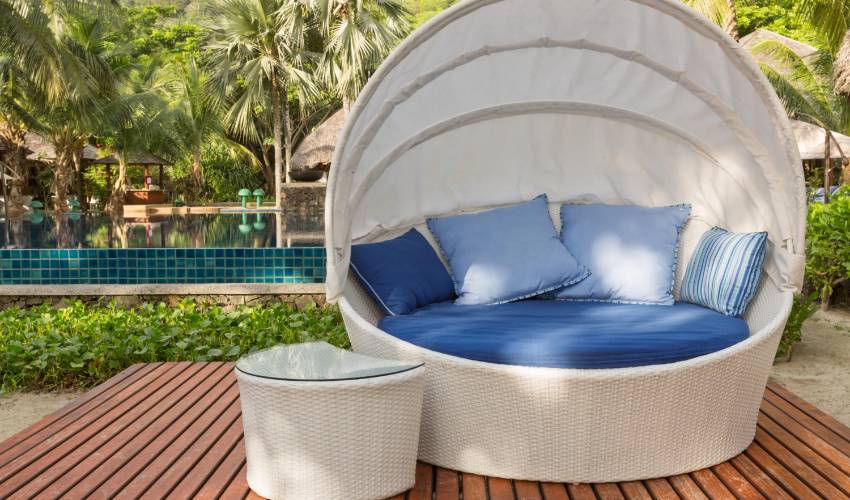 Make sure the cushions and furnishing are completely dry after cleaning your outdoor upholstery or after it has been exposed to rain. Damp upholstery can develop mold, mildew, and bad smells. Before covering and reusing the furniture, give it enough time to dry.
5. Avoid Harsh Chemicals
When cleaning outdoor furniture upholstery, avoid using strong chemicals or cleaning solutions since they might harm the fabric and its protective coatings. For routine cleaning, stick to using mild soap and water to preserve the material's integrity.
Add Style And Comfort To Your Outdoor Area With Upholstery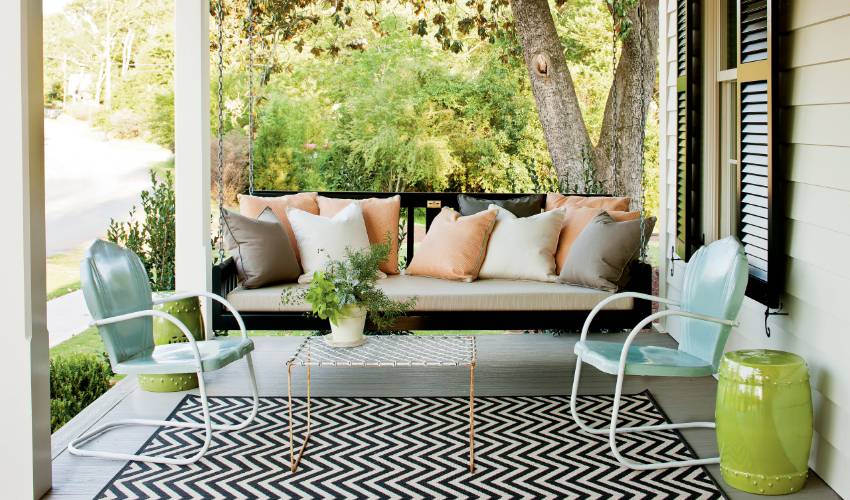 1. Mix And Match
To give your outdoor area more life and personality, embrace a range of patterns and colors. Combine contrasting colors and textures to create an eye-catching combination.
2. Outdoor Rugs
Use outdoor rugs to demarcate seating zones and add a homely feel.
3. Decorative Pillows
Add throw pillows with covers that can withstand the elements to your outdoor furniture for an additional layer of comfort and design.
4. Shade Solutions
Put in awnings, pergolas, or umbrellas to offer shade and shield your upholstery from direct sunlight.
5. Accessorize With Nature
To bring out the natural beauty of your outside environment, use outdoor lights, hanging planters, and potted plants.
Seasonal Care of Your Outdoor Upholstery
1. Winter Preparation
To avoid damage from moisture and cold, properly clean your outdoor upholstery before winter arrives, apply fabric protectors, and store the cushion indoors.
2. Spring Awakening
Start fresh with your outdoor furniture upholstery by removing any winter debris and checking for any damage that might have happened over the winter.
3. Summer Love
Maintain your outdoor cushion with frequent cleanings and refreshes to fully enjoy the sunny season. To guarantee even deterioration, turn and rotate the cushions.
4. Fall Maintenance
When the temperature drops, clean up any fallen leaves and dirt from your outdoor upholstery and apply an essential protective treatment in time for autumn.
Winding Up
You can build a warm and fashionable outside area that you, your family, and guests will enjoy all year long by adhering to this thorough guide on outdoor upholstery. Remember that maintaining the elegance and coziness of your outdoor furniture only requires a little maintenance and strategic styling.